29 November 2022
Improving the efforts to support families in humanitarian crises
New research
A new research project by the University of Copenhagen and War Child has received funding by C. L. David Foundation and Collection to explore how economic support can be part of more integrated mental health interventions for refugee families.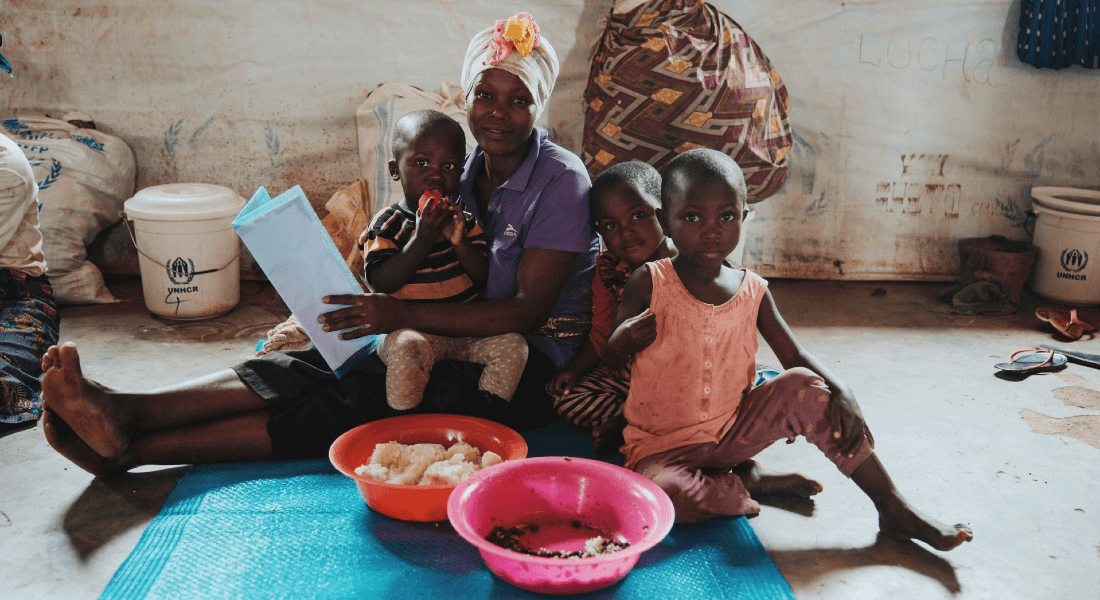 In an attempt to mitigate risk factors and challenges facing families in humanitarian crises, and help families to avoid vicious cycles of interconnected problems, researchers at War Child and the University of Copenhagen have developed the Nurturing Families intervention - a scalable, multi-sectoral, component-based intervention for families experiencing multiple difficulties to be delivered by non-specialists.
The challenges facing families in crises are unique and multifaceted
The challenges facing families in humanitarian crises are unique – children and parents are each at greater risk of psychological distress, both via direct exposure to traumatic events, as well as increased daily stressors related to the context – such as displacement, increases in family and community violence, scarcity of resources, and access to care. Children can be doubly-impacted via the effect of parents' own distress on their ability to provide consistent and responsive parenting, and maintain a nurturing home environment, both of which are vital to child development.
Structurally, for marginalized families with multiple problems (requiring multi-sectoral, integrated support) the humanitarian system is failing. Humanitarian response is siloed by sectors/clusters and does not provide interconnected care. For example, intimate partner violence, mental health needs of parents and children, and basic financial support may all be addressed in disjointed ways (i.e., in the protection, health, and livelihoods clusters separately). This means that families who are most distressed often do not receive the multi-faceted or systemic support they require.
Better support for families in humanitarian crises
The team behind this new research project aims to:
finalize the Nurturing Families intervention by developing and integrating a Financial Coping module for families, and by including a Case Management module (referral pathway and skills set) in the training of facilitators;
conduct a field testing of the newly developed Financial Coping module;
conducting a feasibility study for the full Nurturing Families intervention, now with Financial Coping module and Case Management modules included.
The research evidence
Providing treatment can be challenging in low-resource settings, but increasing evidence suggests that; (1) evidence-based approaches can be applied across diverse cultures, and (2) task shifting approaches (whereby non-specialists are trained as interventionists) are effective and scalable. A recent review paper by War Child Holland's Research and Development team indicates promising effects of family and parenting interventions to address difficulties encountered by families. However where families are experiencing multiple and interconnected difficulties, innovative approaches are needed for treatment that simultaneously considers multiple targets across different levels of the family, and still be feasible to be implemented as scale in low-resource settings.
From the work done over the past years, several major lessons have been learned. The intervention is very well received by families and communities, and results are promising to date. At the same time, there are two pertinent needs that are insufficiently addressed in the current intervention module; (1) addressing financial distress experienced by families, and (2) ensuring better case management skills. Nurturing Families aims to support families to cope with multiple problems and stressors in an attempt to provide systemic support to the families, in turn reducing the risk of adversity for children. Therefore, addressing what is considered to be the most pertinent problem to many families – i.e. financial distress – is a next step that needs to be undertaken to complete the development of the intervention before large-scale evaluation. At the same time, given the multi-problem nature of the families that are eligible for the intervention, and that not all problem can realistically be addressed in a single intervention, having a solid referral pathways in place and including the necessary skills set for adequate referrals among the facilitators (e.g. to address issues of gender based violence, severe mental illness such as psychosis or bipolar disorder, severe and multifaceted poverty) – is also required to complete the intervention.
What has been done to date?
Over the past years the Nurturing Families intervention has been developed, which consists of; (1) a core intervention module of 7 sessions including an assessment of the entire family, family sessions to build core communication skills and ensure joint understanding of needs and goals, and some parenting information. Following the assessment, several optional additional support modules will be offered depending on the specific needs of the families. These additional modules include: (2) caregiver mental health, (3) parenting support, and; (4) conflict resolution. We have extensively field-tested this combination of the core module and additional support modules over the past years, and evaluated its benefits in the Middle East. First, the intervention has gone through small scale field-testing for finetuning and adjustments. Subsequently, we ran a series of case studies (n=10 families) in order to assess adequacy and acceptability of content. Following this, we conducted a feasibility randomized controlled trial with n=60 families. All of these steps took place among refugee and vulnerable populations in Jordan. Second, the core module has undergone a randomized controlled trial in Lebanon. The results of this study are expected over the coming months.
Context
Globally, and nationally in Jordan, there is a dearth of evidence and practice that focuses on the importance of the family system in supporting optimal child development and wellbeing for families living in contexts characterized by high adversity. The study will be conducted in Al Hashmi and/or Sweilah areas of Amman governorate in Jordan. This setting is characterized by low socio-demographic status, high population density, presence of several different cultures, and a dearth of available affordable mental health services compared to need. Activities will either occur in homes, or in Collateral Repair Project centre (CRP) in Al Hashmi and/or Sweilah. In the case of worsening COVID-19 cases and/or restrictions, activities may be shifted to remote delivery using telephone or online platforms. The output will be a culturally relevant and feasible family intervention that addresses stressors faced by vulnerable families in Jordan, for implementation in the next phases, and translated and adapted outcome measures to assess the implementation and effectiveness.
Contact
Wietse Anton Tol: wietse.tol@sund.ku.dk
Topics