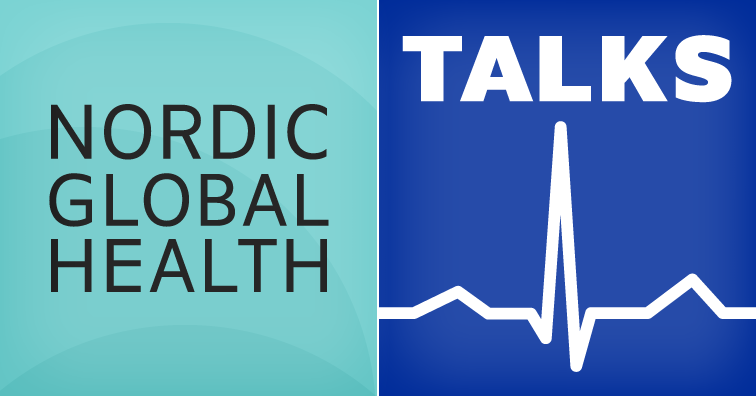 A monthly webinar series about global health from the Nordic universities
The first Wednesday of each month at 10.00 AM CET, you can tune in online via Zoom and listen to an interesting global health lecture from a Nordic university. It is free and open to everyone interested in knowing more about Nordic global health research, education and collaborative projects.
Nordic Global Health Talks will open the doors to new and emerging global health challenges and opportunities experienced in the Nordic region and among communities around the world. The talks will provide you with information about new research, and you will be inspired by new methods and approaches representing a diversity of disciplines and sectors. Maybe you will even find people to collaborate with in the future?
Through this webinar series, you will learn about the specific global health capacities, areas of excellence and specialization of the Nordic universities and our global collaborators. By telling about our research, emerging themes within global health and advances in global health education, we hope to show you some of the ways that the Nordic region is attractive within global health – both for studying, working and for doing research.
Each webinar will be 45 minutes, approximately 30 minutes presentation followed by a 15 minutes Q&A. 
Registration
You must register to participate. If you have registered once, you can choose one or more occurrences to attend.
Questions
For general questions about the webinar series, please write to sgh@sund.ku.dk
Programme 2021
Date
University
Webinar recording
6 January

 

 

University of Copenhagen

Speaker: Wietse Anton Tol

 

There is a vast need for mental health support in populations affected by adversity globally. However, current evidence-based psychological interventions require significant resources and are highly challenging to bring to scale. This presentation will focus on an effort to address needs for mental health support through a WHO-developed guided self-help intervention. The presentation will discuss the adaptation and evaluation of the intervention with South Sudanese refugees in Uganda. Subsequently, the speaker will reflect on how this type of intervention may lend itself for integration in programming outside of the health sector to address the social determinants of mental health.

 

3 February

University of Bergen

Speaker: Thorkild Tylleskär

 

 

 

Child mortality (of children below 5 years of age) has been steadily decreasing over the last decades. Neonatal mortality (of children below 28 days of age) has not decreased as much. The Sustainable Development Goal no 3.1 aims to reduce neonatal mortality in each country to below 12 per 1000 live births. Many low-income countries today are above 25 per 1000 live births which means that a reduction by half is needed. In my talk, I will discuss the difference between lowering child mortality and neonatal mortality and how we can move forward.

 

3 March

Tampere University

Speakers: Meri Koivusalo and Lynda Gilby

 

This talk begins with Meri Koivusalo's overview of populism's influence on public health activities, pandemic control and health promotion. She will discuss broader questions of populism and public health. Lynda Gilby will follow with a discussion on far-right populism, gender, and sexual and reproductive health and rights and work in more detail. Nationalism has been associated with resurgence in far-right populism, which emphasises "traditional family values and gender roles". Lynda Gilby will focus on global governance, sharing findings from her research on how UN negotiations and high-level meetings, such as on UHC, have continued to be subject to efforts to replace references to SRHR with conservative language emphasising traditional, heteronormative family values and how these efforts have impacted on SRHR text in UN documents.

 

Watch on Nordic University Health Hub
7 April

Umeå University

Speaker: Maria Nilsson


 

Five years after the Paris climate agreement to limit global temperature rise to "well below 2°C" the world observed a 1.2°C temperature rise above pre-industrial levels. In order to protect human health, it is imperative that efforts are made to reduce greenhouse gas emissions and keep the temperature targets agreed. The changing climate affects the conditions for human health, and the basic requirements for maintaining good health. Starting with the 2015 Lancet Commission on climate change and health that described tackling climate change as the greatest global health opportunity of the 21st century, the talk will give an overview of some health impacts covered in the Lancet Countdown and end by focusing on what the Lancet Countdown in 2020 called the often "unseen" impacts of climate change on human health – the mental health impacts.

 

Watch on Nordic University Health Hub
5 May

UiT - The Arctic University of Norway

Speaker: Nils Daulaire

 

With the toll of the global COVID-19 pandemic approaching 3 million deaths in 192 countries and new and dangerous variants emerging constantly, the need for concerted global action has never been greater. This calls for not only a thoughtful public health approach but also diplomacy to bring coherence from the range of disparate and self-interested national responses. This is not the first time global health diplomacy has been called for: from the smallpox eradication program to Millennium Development Goals and more recently efforts to unify global health security, understanding and agreement between nations requires an appreciation for the political as well as the epidemiological aspects of response to these societal challenges. This talk will provide a brief history of global health diplomacy in the era of globalisation and discuss the challenges and opportunities posed by 21st century pandemics.

As the former US representative on the Executive Board of the World Health Organization and assistant secretary of health for global affairs during the Obama administration, Dr Daulaire has practiced global health diplomacy at the highest levels. At present,Dr Daulaire is a Senior Visiting Scholar at the Arctic University of Norway/UiT and at the Harvard School of Public Health. 

 

2 June

Lund University

Speaker: Anette Agard


 

Building capacity to address issues of Sexual and Reproductive Health and Rights is considered by many development actors as a cornerstone in promoting sustainable and equitable development. Lund University, through the Division for Social Medicine and Global Health (SMGH), has been engaged with this work for the past decade. This session will provide an introduction to the methods used, and some highlights from the ongoing programmes.

 

- summer holiday in July and August -

1 September

Karolinska Institute (TBC)

Speaker: TBC

 

 

6 October

University of Iceland

Speaker: TBC


 

 

3 November 

University of Gothenburg

Speaker: Laith Hussein and Kristina Jakobsson


 

 

1 December

Norwegian University of Science and Technology

Speaker:  Jon Øyvind Odland

 

 

 

 
Nordic Network on Global Health 
Nordic Global Health Talks is hosted by the School of Global Health at the University of Copenhagen and produced by the Nordplus-funded network, Nordic Network of Global Health. The network currently has 10 member universities:
University of Bergen
UiT - The Arctic University of Norway
Norwegian University of Science and Technology
Umeå University
Lund University
Karolinska Institute
University of Gothenburg
----------------------------------------------------
The Nordic countries have a unique approach to Global Health. Take a Master in Global Health or single courses that reflects this - with access to the best expertise and educational resources across the Nordic countries.