24 March 2021
New Global Health Case Challenge: Improving quality of care at birth in the wake of COVID-19
CASE CHALLENGE
There is a new student case challenge in town! University of Copenhagen is re-launching its popular international Global Health Case Challenge in collaboration with three Nordic universities: Karolinska Institute, Uppsala University and Norwegian University of Science and Technology. 50 international students with multidisciplinary backgrounds will work on the exciting challenge provided by Laerdal Global Health on how to improve care at birth in the wake of COVID-19.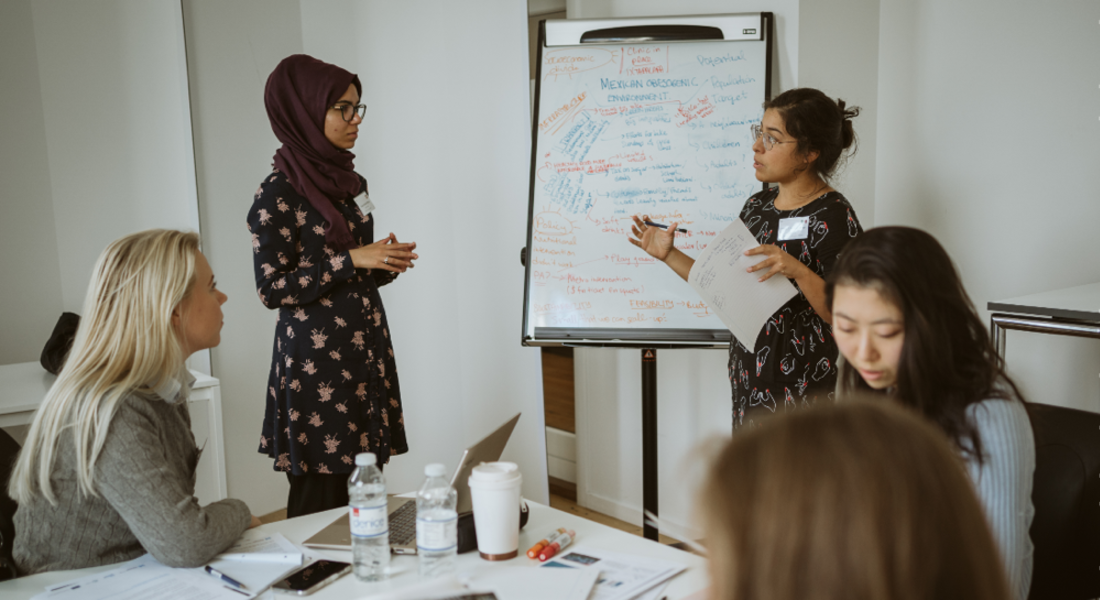 Improved and upgraded form and learning content
It is the seventh time the University of Copenhagen will host a Global Health Case Challenge but this time the content and conditions have been upgraded. Students will now be awarded 2,5 ECTS upon completion of the case challenge and they will have longer time to work on their solutions, which they will present in front of an expert jury on the last day.
More time will also be devoted to a new online preparatory and interactive module, preparing the students to work with innovation in multidisciplinary teams. Here, the students will meet experts from various fields, teaching them about pitching and effective communication, innovation methods and tools, and crucial background knowledge needed to work with innovation.
Global health has many colonial roots, which is also why this preparatory module will include lectures and learning materials on positionality, privilege and the colonial features of global health, developed especially for this course by Renzo Guinto, MD DrPH, St. Luke's Medical Center College of Medicine and PH Lab based in the Philippines. Furthermore, Muhammad Hamid Zaman from Boston University and Norwegian University of Science and Technology, will contribute with a module on innovation in global health, and colleagues from Human and Legal Innovation Hub and SUND Hub will contribute in modules on innovation in health and pitching.
Laerdal Global Health: Quality care at birth in the wake of COVID-19
Laerdal Global Health is this year's case provider and they are interested in hearing the students' take on how to improve the care at birth in the wake of the COVID-19 pandemic.
Globally, more than 300,000 women and 5.3 million babies die each year during pregnancy and childbirth, and many more survive with birth-related disabilities and trauma. While the COVID-19 pandemic has dominated the world's health agenda for more than a year, there are growing concerns related to its negative impact on maternal and new born health. Emerging data from low-resource clinical settings identify decreases in service use, workforce reductions, interrupted supply chains, and increased clinical complexity as central mediators. Paradoxically, the COVID-19 pandemic may simultaneously have taught us new behaviours and technologies that could be of translational value for childbirth care. This calls for forward thinking holistic solutions.
Laerdal Global Health will co-develop the case together with University of Copenhagen's Nanna Maaløe, who worked on The PartoMa Project: Assisting birth attendants to save lives in Tanzania for several years.
Laerdal Global Health is a not-for-profit company dedicated to helping save lives of mothers and newborns in low resource settings. In close collaboration with partners, the company designs and develops products and programs aimed for high impact that are durable, affordable and culturally acceptable. Laerdal Global Health is a sister company to Laerdal Medical - a world leading provider of training, educational and therapy products for lifesaving and emergency medical care.
The online preparatory module will open in June/July. The intensive four-day on-campus part of the programme will take place 10-13 August. Should COVID-19 restrictions prevent the on-campus part from happening, this part of the course will be held virtually.
The Global Health Case Challenge is part of the University of Copenhagen's School of Global Health's summer course programme. See the other summer courses here.