26 August 2019
180 students are ready to improve health in their home countries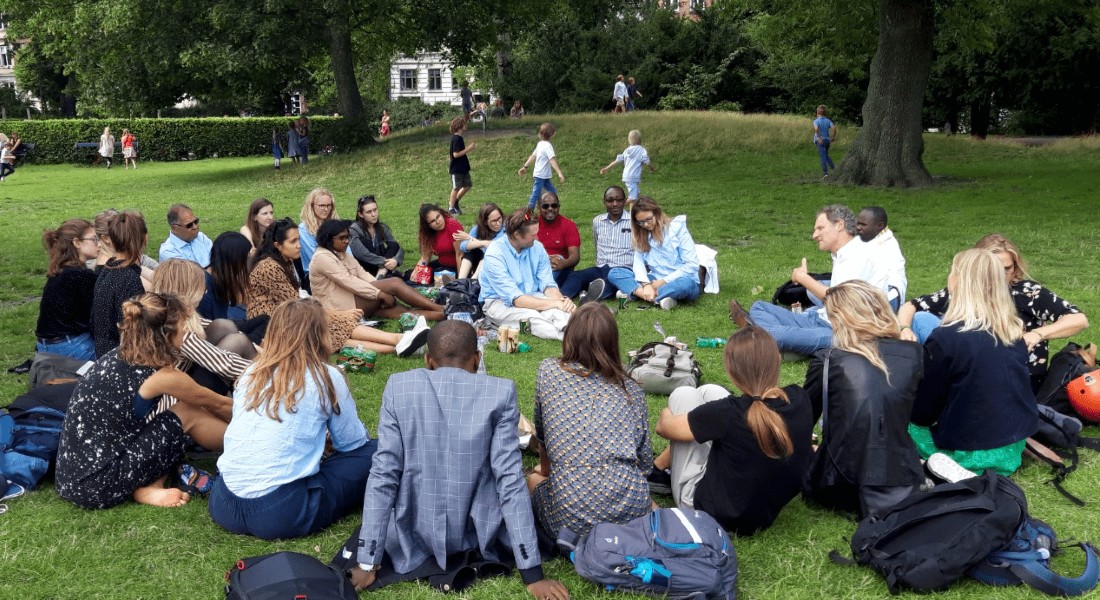 During the past decade, School of Global Health's summer courses has gradually become a popular destination for students hungry for knowledge within health-related topics. In 2019, the summer school consisted of three courses: Global Health Challenges, International Health, and Creating Healthy Cities. A fourth summer course - Field Course on Global Health Research in Sri Lanka - were planned but had to be cancelled due to the unstable situation in Sri Lanka this Spring.
Interactive and relevant course content
The summer courses are designed to make the students interact with each other as much as possible and expert speakers and professors – both local and international – are invited to teach the different classes. Mixed teaching methods, such as group work, field trips, company visits, workshops and much more are implemented to give the students as many different perspectives on health issues as possible.
"I really enjoyed the content and how it was constructed. I like working with challenges and finding solutions so the course in Global Health Challenges was perfect for me. Compared to other programs and universities I looked at, this course was the best for me" says Eric Gyamfi, public health researcher from Ghana
Twenty different nationalities create a unique learning environment
This year, twenty different nationalities were represented in the three summer courses.
"What I really like about this summer course is the fact that people come from all over the world. They each bring their own experiences from their home cities here to Copenhagen, which creates some very interesting discussions about the different perspective and perceptions of the problems regarding health in an urban setting. We have people from South Africa, Asia, USA and Europe and we all bring different views to the table here in Copenhagen" says Aurea Oradini Alacreu, Milan, Italy. 

Liz Bradshaw who works in health promotion and public health advocacy back home were also inspired by the fact that the course brought together people from all over the world:
"Everyone brings new experiences, ideas and perspectives. Understanding all that collectively in class and feeling more informed about some of the things that are effecting our planet is really helpful for us when we go back to our own communities to improve the work we do."
Improving health back home
Many of the summer course students have already completed their education and are now working in various health and public institutions in their home countries. Sibusiso Lwandle from Pretoria in South Africa is an architect, working for the The National Department of Public Works and Infrastructure. After participating in the course, Urbanisation & Health, Sibusiso feels even more encouraged to continue his work back home:
"My eyes have really been opened on how important health is when it comes to my profession as an architect. Health is not an isolated discipline in itself, and all disciplines must contribute when dealing with health issues. During the past weeks I have seen how Copenhagen as a city deals with urbanisation and health and that has given me ideas to work with in my home city. I think the cultural aspect in health issues is very interesting. For example, back home it has almost become the norm that women over 60 are diagnosed with diabetes. Culture plays a big part in this and I think there lies a difficult challenge ahead of us in how we deal with the cultural aspect of health issues."
Sibusiso is inspired by the summer course to continue his studies with a PhD in how culture, health and architecture interplays. In his daily life in Pretoria, he wants to inspire others to change their urban habits by encouraging them to bike. Every day he gets on his bike, sometimes with his GoPro camera, and defies the crazy traffic, dodging taxies, trucks, garbage and people on the sidewalks.
"We need to change our habits – and I want to be a part of that change" says Sibusiso Lwandle, Pretoria, South Africa. 
Aurea Oradini Alacreu from Milan was also in the same course as Sibusiso and she points to the relevance of the course topics for her home city:
"I live in Milan, which is one of the most polluted cities in Italy. I really think something needs to be done in order to improve this. I am interested in the health side of pollution and urbanisation and this course has only made my interest bigger."
Also, Roberta Versiani from Brazil, working as an international affairs officer in the Brazilian Ministry of Health, can use the summer course in her work back home:
"The course gives us a very deep understanding of global health issues, which is defiantly something I can use in my daily work but also it has helped me finding themes to work on for my master education."
Support form Danida Fellowship Centre
24 of this year's summer course students had their expenses covered by scholarships from Danida Fellowship Center. Zhang Ying from Beijing who works for the national drug regulatory agency in China participated in the summer course, Global Health Challenges, on a Danida Fellowship scholarship together with five other colleagues:
"The arrangement and content of the classes is quite extensive and there is a great number of interesting topics on global health. It is very enlightening to listen to the many different professors teaching the course and to engage in discussions with colleagues from different areas," says Ying.
Also, Quynh Le from Hanoi in Vietnam received a scholarship and had a great experience participating in the course:
"I actually work for the Danish pharmaceutical company, Novo Nordisk, in Vietnam where I am in charge of public affairs initiatives. So, it is a great experience for me to come here to Denmark and learn more about different health initiatives and how to improve health. This will help us improve the quality of care we give back home"
Topics